Dear customers!
All products of the Lithuanian production factory "Kudreshov" is from our warehouse in Moscow and shipped immediately after approval of the nomenclature of your order form and payment.

Search by size and/or color


Search by name or any text

Наши телефоны: +7(903)133-9342
+7(903)133-9037

Catalogue

Bra after mastectomy 5185 ORA "Kudreshov" black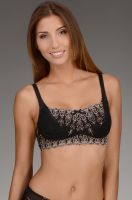 Article: 5185ORA
Color:


Black
Size:
Click on the BRA SIZE YOU NEED in the TABLE below to move it to your BASKET. The quantity of goods for purchase can be changed in your CART. The table shows the sizes that are available in the WAREHOUSE.
Type: Soft bras after mastectomy » Soft bras after mastectomy
Season: All seasons
Sex: For women
Сomposition: Polyamide 80%, Elastan 15%, Viscose 5%
Country: Lithuania
Description:
Black bra after mastectomy, decorated with embroidered lace.
A special bra with pockets for prostheses on both sides for women who underwent surgery to remove the breast (mastectomy). Pockets on the inside are made of either cotton knitwear or polyamide linen (ask the seller for a specific size). A special high construction perfectly conceals the postoperative scars and fixes the prosthesis when moving. The bra is soft, pitted, can be worn like regular underwear. In the kit, you can pick up the cowards of the conventional model 132C.
Goods of the same category