Dear customers!
All products of the Lithuanian production factory "Kudreshov" is from our warehouse in Moscow and shipped immediately after approval of the nomenclature of your order form and payment.

Search by size and/or color


Search by name or any text

Наши телефоны: +7(903)133-9342
+7(903)133-9037

Catalogue

Bra after mastectomy with front buckle gray 9395OR Kudreshov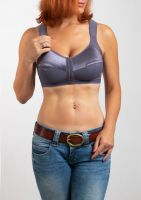 Article: 9395OR
Color:


Grey


Black
Size:
Click on the BRA SIZE YOU NEED in the TABLE below to move it to your BASKET. The quantity of goods for purchase can be changed in your CART. The table shows the sizes that are available in the WAREHOUSE.
| | | |
| --- | --- | --- |
| 85: | 90: | 95: |
| 100: | &nbsp | &nbsp |
Type: Women's Lingerie factory "Kudreshov" (Lithuania) » Orthopedic lingerie
Season: All seasons
Sex: For women
Сomposition: Polyamide 80%, Elastane 10%, Cotton 10% size.
Country: Lithuania
Description:
In our store this is the first model of the postoperative bra with the front fastener.
Very beautiful gray color looks stylish, no lace.
Orthopedic bra soft, without stones. Expanded straps from the inside are duplicated by foam rubber, adjacent to the shoulders by a cotton base.
The front fastener is overpriced and consists of 7 hooks in two rows, thanks to which it hides postoperative seams well.
The back is not reinforced, so the bra will not be hot.
Pockets for artificial limbs bilateral, are made of cotton jersey.
Bra can be worn as regular underwear.
A limited number, carefully look at the available sizes.
Goods of the same category