Dear customers!
All products of the Lithuanian production factory "Kudreshov" is from our warehouse in Moscow and shipped immediately after approval of the nomenclature of your order form and payment.

Search by size and/or color


Search by name or any text

Наши телефоны: +7(903)133-9342
+7(903)133-9037

Catalogue

Silicone extender straps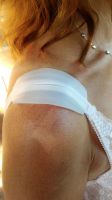 Article: 496
Color:


Rose


Transparent
Type: Silicone stretch straps » Silicone extender straps
Season: All seasons
Sex: For women
Сomposition: Silicone
Country: China
Description:
Silicone strap extensions are a rescue for women who can not afford to wear their favorite bras with thin straps because of the discomfort associated with constant pain in the shoulders when the bra straps cut into the body. Expanders can be used constantly, throughout the day. Simply thread the bra strap of any shape and width into the silicone expander and you will forget about the pains in the shoulders!
The price is indicated for one pair of expanders.