Dear customers!
All products of the Lithuanian production factory "Kudreshov" is from our warehouse in Moscow and shipped immediately after approval of the nomenclature of your order form and payment.

Search by size and/or color


Search by name or any text

Наши телефоны: +7(903)133-9342
+7(903)133-9037

Catalogue

Бюстгальтер без косточек 7375G "Kudreshov" черный с золотом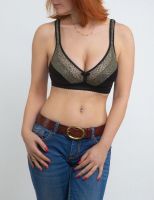 Article: 7375G
Color:


Black and Gold
Size:
Click on the BRA SIZE YOU NEED in the TABLE below to move it to your BASKET. The quantity of goods for purchase can be changed in your CART. The table shows the sizes that are available in the WAREHOUSE.
| | | |
| --- | --- | --- |
| 75: | 80: | 85: |
| 90: | 95: | &nbsp |
Type: Women's Lingerie factory "Kudreshov" (Lithuania) » Bra Kudreshov
Season: All seasons
Sex: For women
Сomposition: Polyamide 80%, Elastan 15%, Viscose 5%
Country: Lithuania
Description:
Soft padded bra tightly sits on the body. Thanks to the golden inserts it looks very elegant. Suitable for women who have undergone an operation to correct (increase) their breasts, since they do not have a rigid framework that can damage your new breast.
Adjustable straps widened at the front, the clasp behind the two hooks.
Also suitable for women who are actively engaged in physical activity, and do not want clothes interfering with the movements.
Goods of the same category