Dear customers!
All products of the Lithuanian production factory "Kudreshov" is from our warehouse in Moscow and shipped immediately after approval of the nomenclature of your order form and payment.

Search by size and/or color


Search by name or any text

Наши телефоны: +7(903)133-9342
+7(903)133-9037

Catalogue

Ru201314 pullover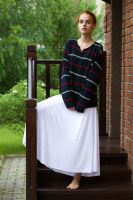 Article: Ru201314
Color:


Offwhite


Navy
Season: All seasons
Sex: For all
Сomposition: 100% cotton
Size: S, M, L
Country: Lithuania
Description:
Stylish youth sweater with outsets on a mouth of free breed. Approaches both to young men, and the girls appreciating comfort and preferring sports style in clothes.
The size range corresponds to a man's dimensional grid, for example, a sweater in the photo - the size S.
Стильный трикотажный кардиган смотреть здесь.