Dear customers!
All products of the Lithuanian production factory "Kudreshov" is from our warehouse in Moscow and shipped immediately after approval of the nomenclature of your order form and payment.

Search by size and/or color


Search by name or any text

Наши телефоны: +7(903)133-9342
+7(903)133-9037

Catalogue

Soft padded bra - minimizer 5434B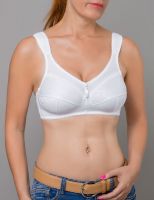 Article: 5434В
Color:


White
Size:
Click on the BRA SIZE YOU NEED in the TABLE below to move it to your BASKET. The quantity of goods for purchase can be changed in your CART. The table shows the sizes that are available in the WAREHOUSE.
| | | |
| --- | --- | --- |
| 80: | 100: | 105: |
| 110: | &nbsp | &nbsp |
Type: Women's Lingerie factory "Kudreshov" (Lithuania) » Bra Kudreshov
Season: All seasons
Sex: For women
Сomposition: Polyamide 60%, elastane 10%, cotton 15%, polyester 15%
Country: Lithuania
Description:
Specially designed model without pits for large breasts.
VERY hard on the body thanks to special inserts on the sides, which do not stretch in width. Thanks to a strong fit visually reduces the size of the breast. Has wide straps that do not bump into the shoulders. The inner side of the cups and the wide part of the straps is made of cotton knitwear. The fastener on the back is wide - beginning with the volume under the breast 100, consists of three hooks.
If you doubt the size, then it is better to take this model by the size more by volume under the breast.
Limited size range and total!
Goods of the same category