Dear customers!
All products of the Lithuanian production factory "Kudreshov" is from our warehouse in Moscow and shipped immediately after approval of the nomenclature of your order form and payment.

Search by size and/or color


Search by name or any text

Наши телефоны: +7(903)133-9342
+7(903)133-9037

Catalogue

Dress female Ru201307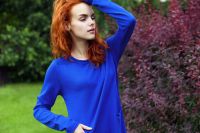 Article: Ru201307
Color:


Blue


Grey


Black


Ocean


Coffe/milk


Rose


Jeans blue
Type: Сlothes » Dresses female
Season: Spring-summer
Sex: For women
Сomposition: 50% wool / 50% PAN
Size: S, M, L
Country: Lithuania
Description:
Wonderful, fashionable and unusual short dress of monophonic color. Young women of fashion from it delighted!
Goods of the same category