Dear customers!
All products of the Lithuanian production factory "Kudreshov" is from our warehouse in Moscow and shipped immediately after approval of the nomenclature of your order form and payment.

Search by size and/or color


Search by name or any text

Наши телефоны: +7(903)133-9342
+7(903)133-9037

Catalogue

Body 3190B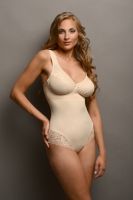 Article: 3190B
Color:


Skin
Size:
Click on the BRA SIZE YOU NEED in the TABLE below to move it to your BASKET. The quantity of goods for purchase can be changed in your CART. The table shows the sizes that are available in the WAREHOUSE.
| | | |
| --- | --- | --- |
| 80: | 85: | 90: |
| 95: | &nbsp | &nbsp |
Type: Women's Lingerie factory "Kudreshov" (Lithuania) » Slimming bodysuit Kudreshov
Season: All seasons
Sex: For women
Сomposition: Polyamide of 90%, Elastane of 10%
Country: Lithuania
Description:
Baud of average force of correction from very pleasant, silky jersey, it is trimmed by laces of corporal color. Has wide soft straps for painless maintenance of a breast of the big size. At a sock it isn't felt on a body, is ideally suited as linen under fitting dress.
Goods of the same category